The milk you drink could be carrying unsafe bacteria!
Vijayawada: On one hand where Andhra Pradesh stands as the fifth largest producer of milk in India, milk-borne diseases have become a cause for concern on the other. A study by NTR Veterinary College revealed that a majority of raw and chilled samples contained bacteria such as E. coli, S. aureus and Salmonella.
Alarmingly, pasteurised milk too has been found contaminated. The study tested 600 milk samples and found that 13% of raw and chilled samples contained Listeria – a causative agent of one of the most severe Foodborne diseases.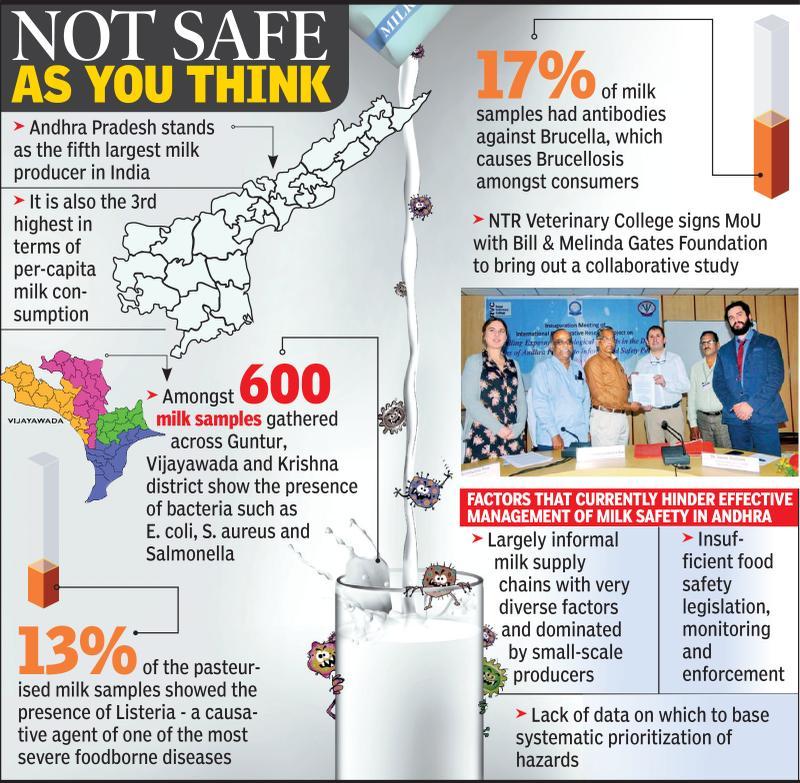 The samples also lacked the presence of dangerous bacteria Brucella and it was further found that around 17% of the samples had antibodies against Brucella. But on the contrary, it has been revealed that a large number of brucellosis cases have been reported in the state of which a maximum number of people consume raw milk.
The study also cites that the expansion of dairy production in India and AP has taken place without food safety challenges being fully addressed.
Factors that currently hinder effective management of milk safety in Andhra include: largely informal milk supply chains with very diverse factors and dominated by small-scale producers, insufficient food safety legislation, monitoring and enforcement, lack of data on which to base systematic prioritization of hazards.
"Lack of standardization and limited resources make food safety regulation challenging. With AP having third highest per-capita milk consumption in India, there is an importance of the dairy sector in the state, however, there is a limited adoption of good farming practices by producers and safe handling practices by actors along the supply channels," the study explained. In this regard, NTR Veterinary College also held a meeting with various people from the scientist community and few other animal sciences universities on Thursday.
A collaborative research project will soon be undertaken between Royal Veterinary College London, NTR College of Veterinary Science, Gannavaram and Guru Angad Dev Veterinary and Animal Sciences University (GADVASU), Ludhiana on 'Modelling exposure to biological hazards in the dairy chains of Andhra Pradesh to inform food safety policy' funded by Bill & Melinda Gates Foundation and the United Kingdom's Department for International Development. A MoU in this regard has also been signed at NTR Veterinary College with the Gates Foundation. Around $820,823 are expected to be spent on the project which would take place for a period of 36 months.